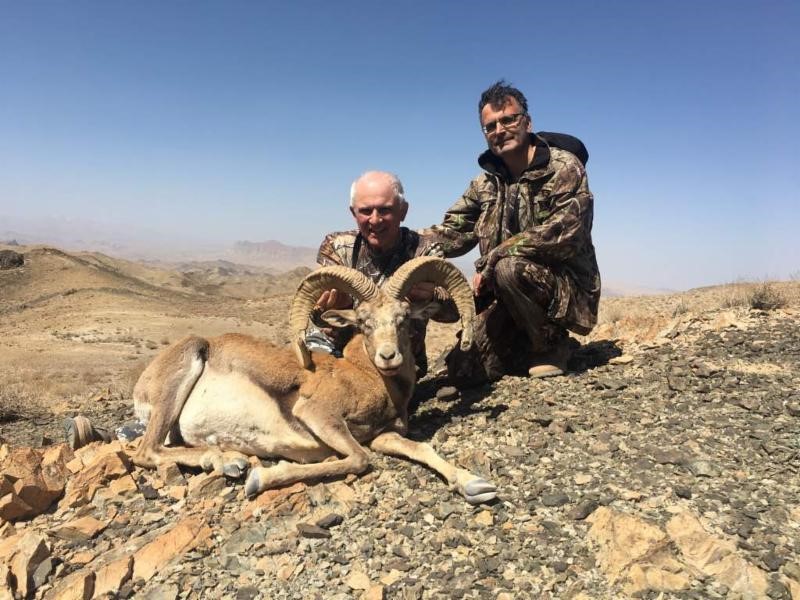 Our client, Joe Francois, and outfitter Dr. Esrafil Shafiezadeh
on March 8, 2018 with the largest Kerman Sheep shot since 2011
Thanks to the just-completed shikars by Charles Herron, John Gulius, Joe Francois, and Ken Wilson on large, unfenced, private reserves, the government of Iran has just announced it will open several government reserves for several species almost immediately. The new split-season format will take place May 22 - October 7 and December 6 - January 24. John Gulius and Charles Herron have already booked to return in time for opening day in just a little more than 2 months from now.
For interested hunters, permits are already available on the government reserves for Transcaspian Urial, Afghan Urial, Esfahan Sheep, Kerman Sheep, Persian Desert Ibex, and Bezoar Ibex. Trophy quality is expected to be excellent after no hunting for 5 years.
The season on private reserves will continue to be November 15 - March 20 for Persian Desert Ibex, Kerman Sheep, and Blandford Urial.
For information on pricing and how to book, contact Ken Wilson (kwilson@ktc.com or 830-792-4200). For the species not yet on license (Red Sheep, Armenian Mouflon, Laristan, Shiraz, and Arak), limited permits are expected in the future and you can reserve a priority spot with a refundable deposit of 5,000 Euros.