Exclusive Representatives
SHUNNESON & WILSON ADVENTURES
Ken Wilson 830-792-4200 or kwilson@sportsmenonfilm.com
LIBERIA RAINFOREST SAFARI
Season: January - June
MORRIS DOUGBA, Owner-Outfitter
STANDARD DUIKER SAFARI (10 days)
$11,500 1x1
or
SHORT DUIKER SAFARI (7 days)
$9,900 1x1
TROPHY FEES: Zebra Duiker* $2,000,
Yellow-Back Duiker* $3,000, Black Duiker $1,200,
Bay Duiker $800, Ogilby Duiker* $1,500, Maxwell Duiker $700, Jentink Duiker** $6,000, Water Chevrotain $2,000, Palm Civet $500, Ratel (Honey Badger) $700, Golden Cat $1,000
BIG GAME and DUIKER SAFARI
(14 days)
$16,100 1x1
Add Bongo $6,000, Dwarf Forest Buffalo $3,000,
Giant Forest Hog $2,500, Red River Hog $800,
Forest Sitatunga $4,500
NOTE: Only 2 hunters at one time (2x2) or a
maximum of 3 friends/relatives (3x3).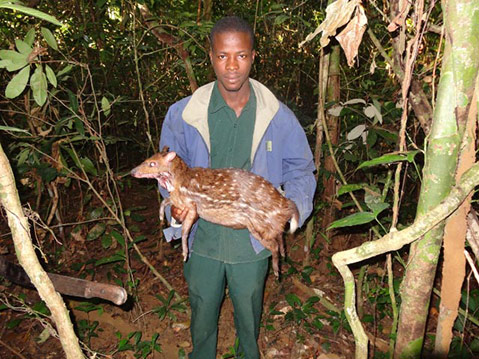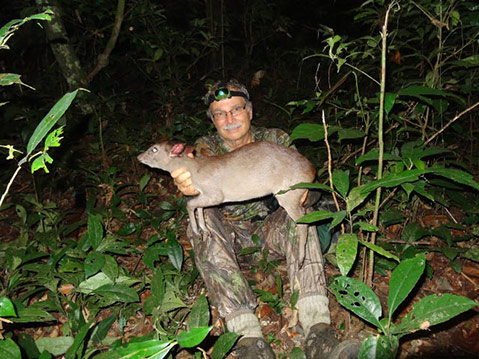 * Requires CITES II Permit from Liberia to enter the U.S. (obtained by the outfitter). ** Only the Jentink is not importable to the U.S.
Additional costs: (1) Food and lodging in Monrovia, if required. (2) Hunting license: $1,000. (3) 10% surcharge on trophy fees for community development. (4) Optional $400 per day per observer. (5) Optional $100 per day for extra guide to scout while the client is hunting.
Logistics: Fly to Monrovia, Liberia where you will be picked up and driven to Base Camp (4 hours from Monrovia or 6 hours from the airport). Meet-greet, transportation, rifle/shotgun/ammunition, and trophy prep and docs are included.