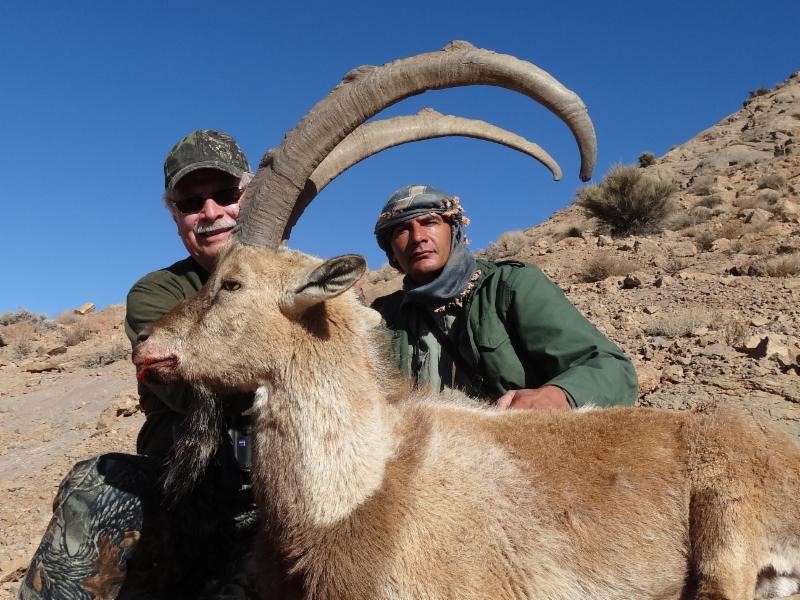 REPORT
The tourism and hunting opportunities are unparalleled and are conducted in a safe and friendly atmosphere. There is great camaraderie between traveling Americans and local Iranians; both those assisting with the hunting and with locals encountered during travel and tourism.
Charles Herron, John Gulius, and Ken Wilson arrived in Tehran on March 1 for the first test hunt before the end of the season on March 20 (and in preparation for the upcoming first full season, November 15, 2018 - March 20, 2019). They were met by Jasmin Safaris and taken to a beautiful airport hotel for a few hours rest before the 8-hour drive to a small, but very nice motel near their hunting venue in Yazd Province.
Richard Sand,from Denmark, had already arrived and succeeded with Persian Desert Ibex. John Gulius and Charles Herron shot their Desert Ibex on the first day, and Ken Wilson got his on the third day, followed by sightseeing. Following are Ken Wilson's photos. Photos from the other hunters, will follow in a Newsletter later this month after their return.
IRAN IS OPEN! BOOK NOW FOR NOVEMBER 15, 2018 - MARCH 20, 2019 for 9 species of Sheep, 2 species of Ibex, 2 species of Gazelle, and huge Wild Boar.
CONTACT KEN WILSON (kwilson@ktc.com or 830-739-3056) to obtain your priority number for each species because permits are limited.