As we have reported in The Hunting Report since March, the 2013-2014 hunting season in Iran is for sure according to Esrafil Shafiezadeh of Iran Jasmin Safaris.
OUTFITTERS AND ALLOCATIONS
There are 3 active hunting outfitters in Iran. All 3 will be allocated the same number of permits and all 3 will have access to all open reserves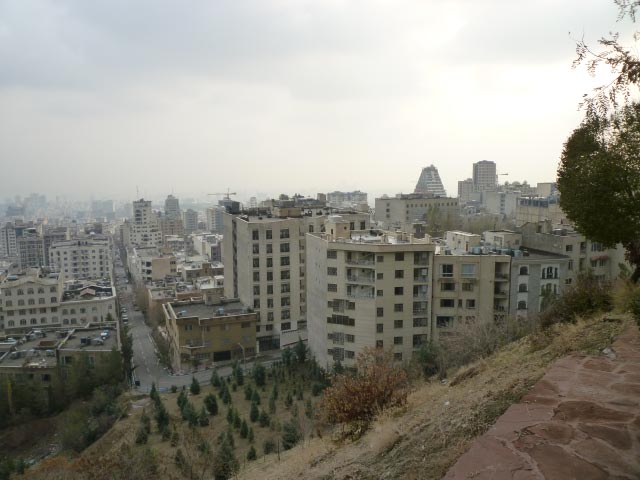 Tehran
HUNTING SEASON DATES
Even though the actual season will be slightly longer, we will be booking only the prime times of November 1, 2013 - February 20, 2014.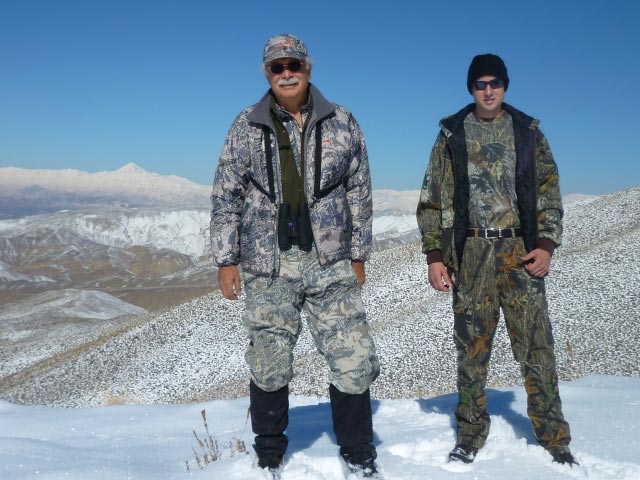 Alborz Mountains, November 2011
SPECIES TO HUNT
If you are a mountain hunter, you must experience touring and hunting Iran with its incredible variety of Sheep and Ibex: Armenian Mouflon, Red Sheep, Transcaspian Urial, Afghan Urial, Esfahan Mouflon, Kerman Sheep, Shiraz Mouflon, Laristan Mouflon, Bezoar Ibex, and Persian Desert Ibex. GSC/O and SCI will only accept each species if hunted within defined boundaries. If you would like a copy of these boundaries emailed to you, please ask Ken Wilson at kwilson@sportsmenonfilm.com.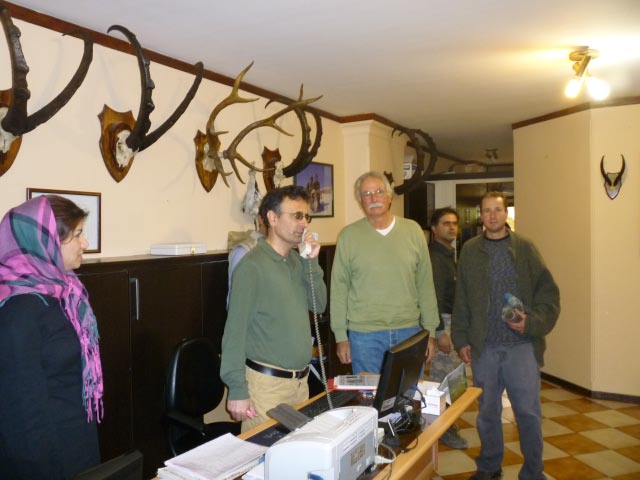 Jasmin Safaris Office ... L to R: secretary, Esrafil, Ken and Ryan Wilson, and tour guide Jahan in the back.
WHICH OUTFITTER TO BOOK WITH?
Jasmin is the only outfitter in Iran offering a trophy fee system, so if you don't shoot, you pay only about half-price. Jasmin has the incentive to get you a trophy of every species you book to hunt. Why book with a flat fee outfitter when you have the choice? This is why Jasmin is the largest outfitter in Iran.
Typical "camp" by the mountains
YOUR COST TO BOOK IS $1.00 PER SPECIES!!!!!
In order to get ready for the 2013-2014 season, we are lining up our hunters as to arrival dates and the species to be hunted. To get on this list and receive a Booking Agreement costs only $1.00 per species. No other outfitter offers such a program.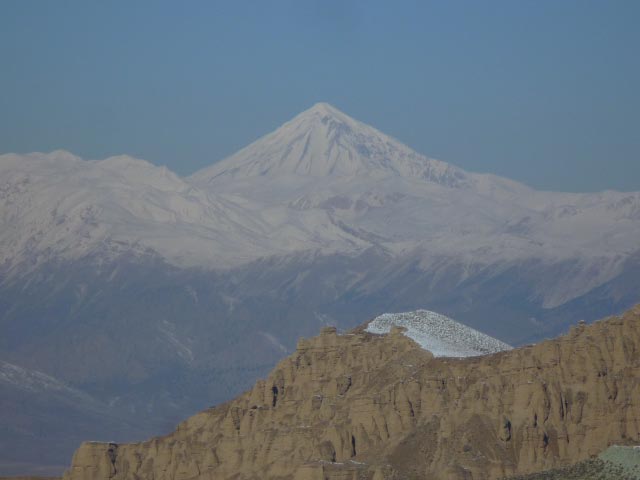 Mount Damavand ... Iran's highest at 18,400 feet
AN INVITATION NUMBER IS REQUIRED TO RECEIVE A VISA
Once you are booked for $1.00 per species, we will obtain your personal and rifle information and put you on the list to receive an invitation number 1-2 months before your departure. You must have this official "invite" in order to be able to receive your visa.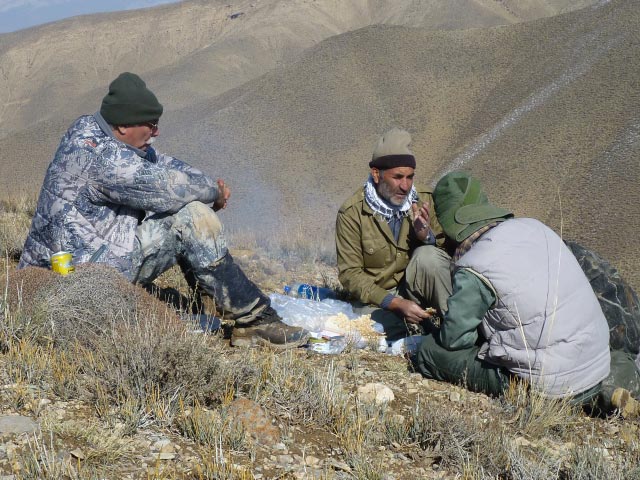 Lunch at 8,000 feet
YOUR SECOND DEPOSIT
Our deposit program is designed so that your money is not tied up and at risk. When you receive your invitation number, your deposit requirement increases to a total of $8,000 for Sheep or Ibex, $2,000 for Persian Gazelle, and $1,000 for Wild Boar.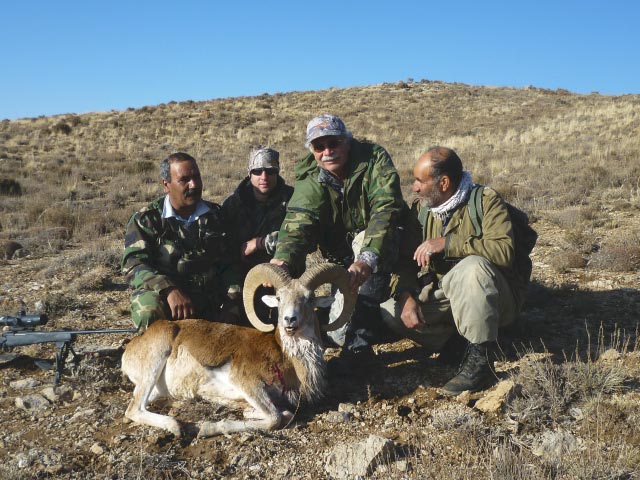 Gold Medal Red Sheep
WHAT HAPPENS TO YOUR DEPOSIT MONEY?
We will hold your deposit money in Texas until just before your departure to Iran. This means Jasmin will front your license fees and conservation fees. No other outfitter does this. Also, so you don't have to carry much cash, you can send us your prepaid trophy fees and we will hold them in Texas until after your shikar. No other outfitter allows this.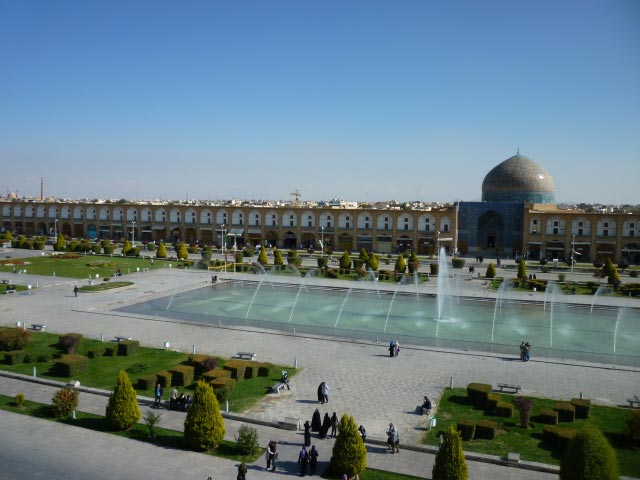 Imam Square in Esfahan
WHAT ARE THE TOTAL COSTS TO HUNT EACH SPECIES?
With 11 species counting Gazelle and Boar, the total cost calculation has a lot of working parts including licenses, rifle permits, required in-country insurance, daily rates, travel days, conservation fees, trophy fees, trophy prep, export docs, etc. For a complete list, ask Ken Wilson at kwilson@sportsmenonfilm.com. There is a variation in price depending on species and trophy size, but to give you an idea, Sheep start at $18,200 and Ibex start at $15,990 ... all in.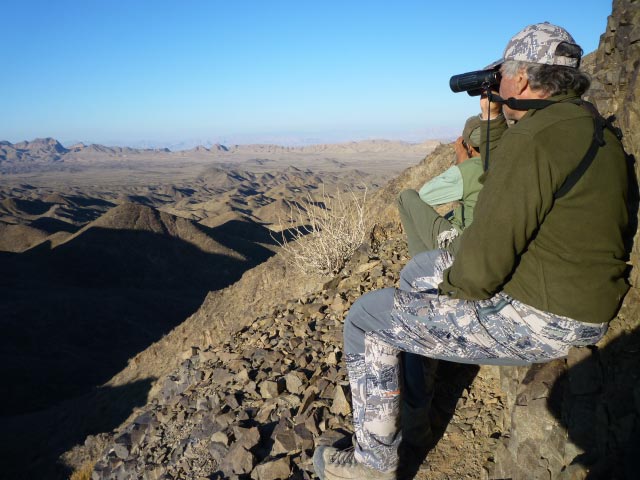 Typical desert mountains
WHAT IS A TYPICAL ITINERARY?
Typically, you arrive Tehran early morning non-stop from Frankfurt or Istanbul. You have the choice of being driven to your first reserve or going directly to a nice hotel in Tehran followed by travel to your first reserve. You then have 5 days to hunt before traveling to your next reserve or back to Tehran. There are numerous sightseeing opportunities that can be scheduled or taken advantage of when you finish early in a reserve.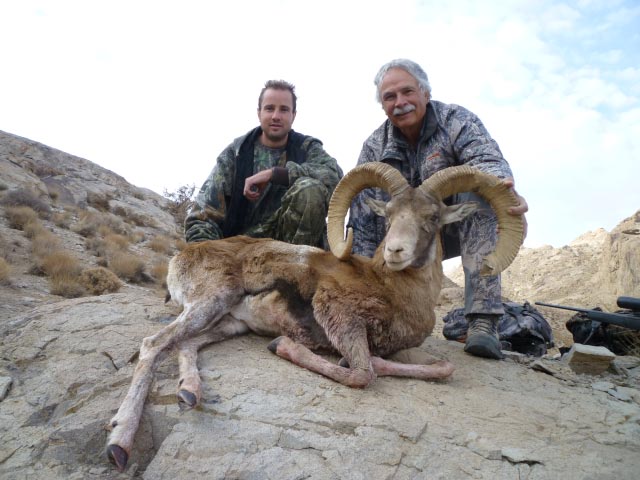 Gold Medal Kerman Sheep
HOW DO I BRING MY TROPHIES HOME?
You must bring your trophies back to the U.S. as checked baggage, or pick them up on a future trip to Iran, or have them shipped to Canada or Europe and personally picked up at a later date and personally brought back to the U.S. as checked baggage. To bring them back on the trip hunted requires 2-3 days in Tehran for trophy prep and paperwork (1 week for CITES for Trancaspian Urial, so we schedule it early in your hunt). For these 2-3 days, you can sightsee with a tour guide or we can arrange for you to hunt huge Wild Boar by the Caspian Sea.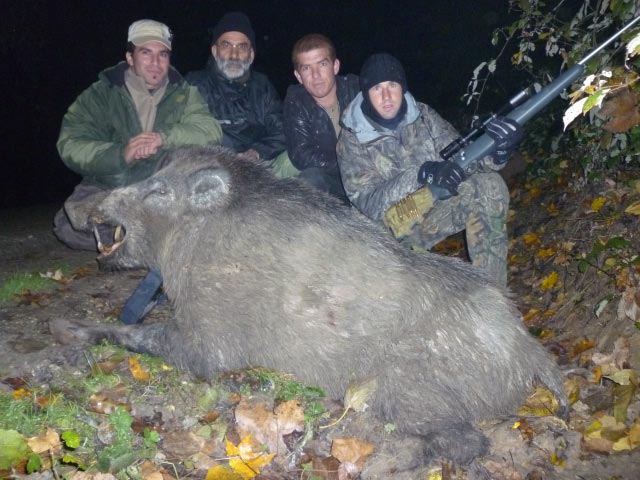 Ryan's Wild Boar
WHAT IS IT LIKE HUNTING A ND TOURING IRAN?
See it for yourself in the Sportsmen on Film DVD "Shikar to Iran" available for $19.95 through www.sportsmenonfilm.com.
TO DISCUSS HUNTING IRAN, CONTACT KEN WILSON:
830-792-4200 or kwilson@sportsmenonfilm.com or see our website: