LIBERIA
Morris Dougba of Liberia Rainforest Safari has named Shunneson & Wilson Adventures as his exclusive representatives for the unique and very affordable safaris that he offers in his new concession in the Bella Forest that has never before been hunted by sport hunters. Ken Wilson was there this month to check it all out. In 7 days he shot the following: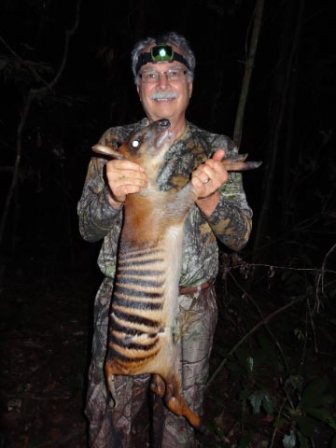 ZEBRA DUIKER guided by Boima McGill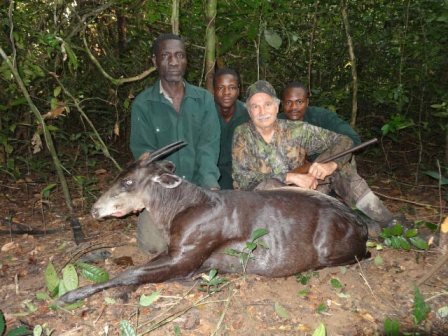 YELLOW-BACKED DUIKER
L to R: Sao Brophy, Edwin Brophy, Ken, Boima McGill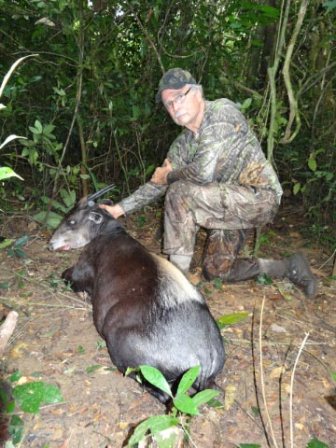 Ken's guide was Edwin Brophy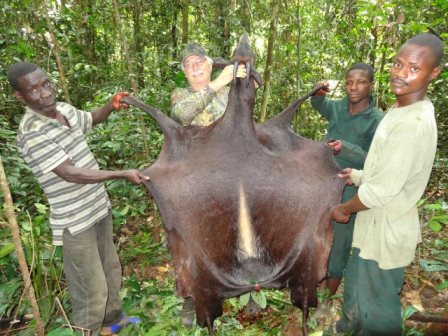 That is one big Duiker!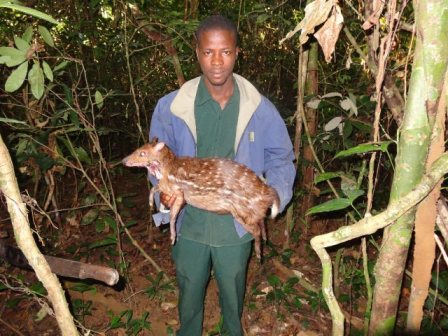 Guide Edwin Brophy holding Ken's WATER CHEVROTAIN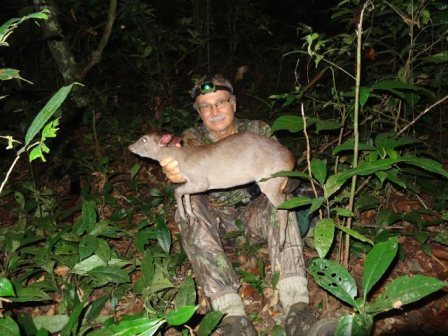 MAXWELL DUIKER guided by Edwin Brophy
Guide Macantony "Tony" Henry holding Ken's BAY DUIKER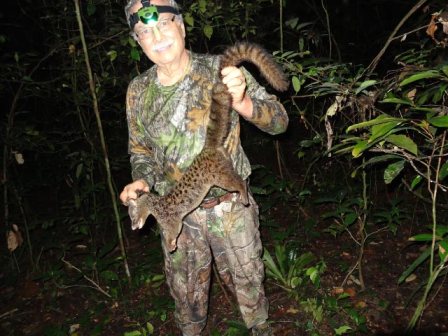 PALM CIVET guided by Boima McGill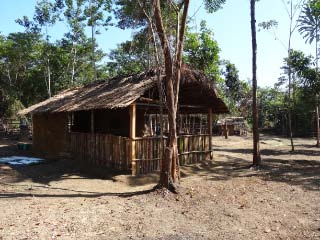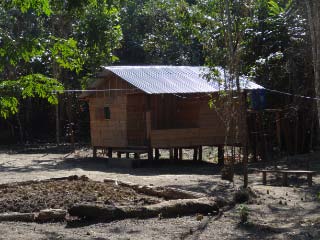 BASE CAMP in the Bella Forest
SAFARI COSTS
The Standard 10-day Duiker Safari is only $11,500 ($10,950 2x2) and the Short 7-day Duiker Safari is only $9,900 ($9,500 2x2). Trophy fees are $350 to $1,000 each for the pictured Duikers plus Black Duiker and Ogilby Duiker. Jentink Duiker is on license for $5,000, but cannot be imported to the U.S.
You can be among the first to hunt 20 days for $23,000 and add Bongo ($5,000), Dwarf Forest Buffalo ($2,500), and Giant Forest Hog ($800).
Not included is the hunting license ($500), any overnights in Monrovia, and a 10% surcharge on trophy fees for community development. More information is available at www.shunnesonwilson.com.
CONVENTION RECAP
(detailed information will follow in our January Newsletter)
Weatherby Banquet, January 8 at the Omni Hotel in Dallas
We have the featured auction item: a 12-day Sitatunga and Plains Game safari to Uganda with Uganda Wildlife Safaris.
Dallas Safari Club, January 9-12 in Dallas at the Omni Hotel
WE WILL BE IN BOOTH #3117. We have two premier auction items from Faro East - Cameroon: Thursday night auction item #10 is a 6-day Roan Safari and Saturday night auction item #33 is a 9-day Lion Safari. Lions are importable to the U.S. from Cameroon. MORRIS DOUGBA of Liberia Rainforest Safari will be in the booth with us.
Wild Sheep Foundation, January 22-25, Reno Convention Center
LAD SHUNNESON WILL BE IN BOOTH # 644.
Grand Slam Club/Ovis, Jan 29-Feb 1 at the Grand Sierra Resort in Reno
WE WILL BE IN BOOTHS 410 - 412. SALVA MONFORTE and NATALIA MAGDA of Salvafor - Spain will be with us.
SCI, February 5-8 at Mandalay Bay in Las Vegas
WE WILL BE IN BOOTHS 1880 - 1882 - 1884. SALVA MONFORTE and NATALIA MAGDA of Salvafor - Spain will join us as will JIMMY JOHNSON of Summit Whitetails. We have two auction items: A Beceite Ibex hunt with Salvafor and a 6-day Western Savannah Buffalo Safari with Faro East Cameroon which is Thursday night auction item #14.