UGANDA SPECIAL &
IMPORTANT MISC.
UGANDA
STILL 100% ON SITATUNGA FOR 2011 AND 2012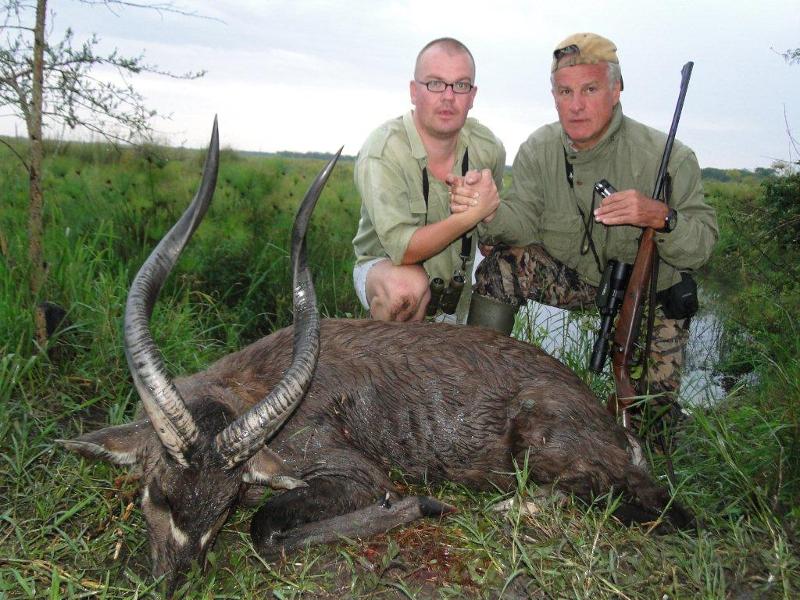 Owner-PH Chris Weth, left, with famous Russian hunter, Sergey Yastrzhembsky.
With all 2011 and 2012 Sitatunga hunters shooting their main trophy within 3 days, plenty of time is left on a 10-day safari to hunt the other great species available through Chris Weth's Uganda Wildlife Safaris. It took Ken Wilson 5 days to shoot his Sitatunga on-camera in 2010 for Sportsmen on Film's DVD "Safari to Uganda." But since then, miles and miles of prime swamps have been opened up and scouted. See www.shunnesonwilson.com for 2012-2013 pricing. Also note that for October 2012 - September 2013, there will be 2 permits for the rarely hunted Island Sitatunga.
NOW WE EXPECT TO BE 100% ON NILE BUFFALO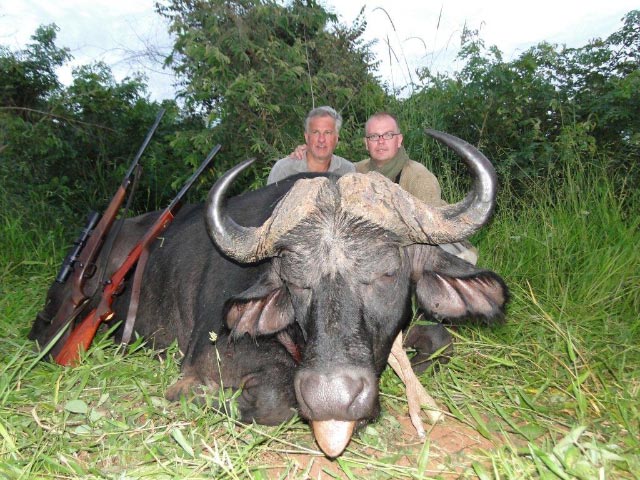 Chris and Sergey hunted last month (June 2012).
For 2010 and 2011, Uganda Wildlife Safaris' success rate on Nile Buffalo was 50%. For example, it took Ken Wilson 5 days of tracking in the Aswa Lolim concession before he shot his in 2010. Tracking bulls that come out of Murchison Falls National Park is still a good hunting method, but still only about 50%. HOWEVER, there are numerous bulls that raid crops on authorized farms next to the Park, and Chris now has permission to also hunt those bulls. For the time being, there are many crop-raiding bulls, so the success rate for Nile Buffalo has jumped to 100%. Chris is willing to bet that success rate will continue and he is willing to bet on it as follows: "Book the 14-day Sitatunga-Buffalo- Plains Game Combo Hunt (Package F on the website) at a $5,000 discount. Only when you shoot your Nile Buffalo do you pay that $5,000 plus the trophy fee of $4,000." Other operators charge a trophy fee of as much as $20,000 for a Nile Buffalo. Book your safari now for open dates in 2012 or 2013.
IMPORTANT MISC.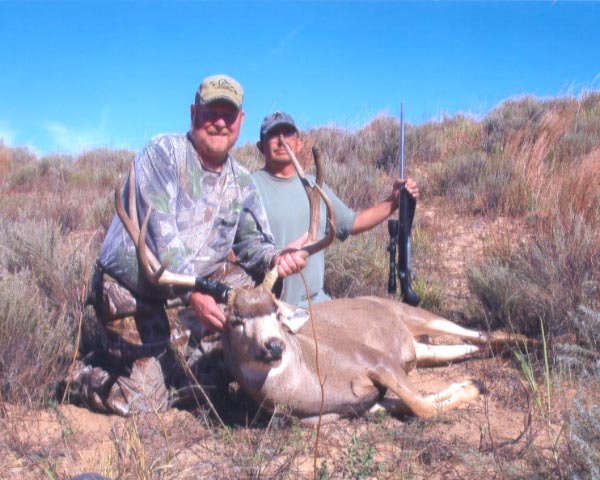 MULE DEER
We have never had openings this close to the season, but we now do for the prime week of October 29 - November 2, 2012. You will see dozens of big bucks on 30,000 private acres in New Mexico. This hunt is only $5,150, all-inclusive, and is personally accompanied by Mr. Mule Deer, Lad Shunneson.
SPANISH IBEX and CHAMOIS
Now is the time to book the best dates for 2012 - 2013 (but keep in mind that the game is so plentiful that the hunting is good throughout the long season). We are still priced at about half that of most other outfitters! We had a Texas client shoot both a Sierra Nevada and Ronda Ibex in only 3 days the end of March.
CANCELLATION OPPORTUNITY FOR TANZANIA
Our first hunters are in Maasailand as you read this, so we will have a full report in our next Newsletter. A client had to cancel an elephant hunt in Kilwa in September, so we can pass along the savings... only $29,500 for 14 days. You pay the regular trophy fee and the air charter. Concentrate on shooting a big Elephant, but you can also shoot Buffalo and other game if you would like. Elephants are 21-day animals, so you pay the 21-day government fees. If you would like, bring a friend and each shoot an Elephant 2x1 for $24,000 each.
KEN WILSON IS OFF TO AZERBAIJAN Ken will have a full report in the next Newsletter. His actual hunt dates are July 10-14. We hope he knows that you don't hunt Tur by driving around "safari-style!"
www.shunnesonwilson.com
Ken Wilson (800-910-4868)
Lad Shunneson (303-258-7777)